History
MobileVision was formed just six, relatively, short years ago. But don't let the company's youthful swagger fool you. The people who make us what we are have been in mobile data, hardware peripherals, point-of-sale, software development and distribution roles for the last decade (some for two - but let's not bring that up in front of them). Our specialty is bringing mobile hardware together with smartphones, building amazing apps that take advantage of both and then rolling these out smoothly in sometimes very complex business situations. For end customers, our turnkey solutions and deployment support are second to none. For developers and in-house, enterprise types we offer packaged SDK's (software development kits) that uniquely bundle our hardware/smartphone expertise into an easy-to-build-upon platform. Why would you rebuild 'the wheel' (like PCI certified point-of-sale, or user security and device management tools) when we've already built it, tested it, certified it and proven it in the field?
---
Future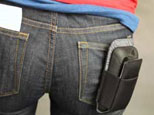 Our future is built upon our prior successes, our current innovation and the projects that are just hitting the hopper now. Our six year track record with RIM BlackBerry continues to evolve, our recent world's first MFI (made for iPod) approved hardware deployment for retail point-of-sale (see Point of Sale) positions us for some amazing customer projects and then of course the next smartphone operating systems we have queued up will meet the needs of Windows mobile, Android and other die-hards out there.
---
Bookmark & follow us
With so much going on, you will want to keep up with us! If you're partial to one of the social sites or aggregators below, then click away. Keep scrolling a little further to join the newsletter if you like occassional, packaged information sent to your email inbox.